Lebohang Motaung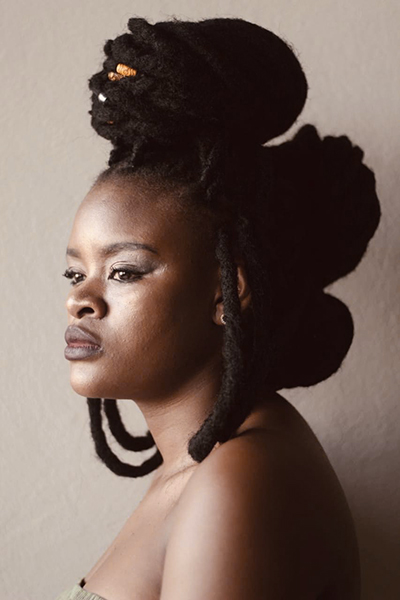 "Identity is constructed across difference. It is an immense gain to see yourself for who you are and not what is projected onto you by society…being black is how you choose to identify with it…"
Leobohang Motaung is from Vaal Sebokeng, South Africa. She has a BTech in Fine Arts (printmaking major) from Vaal University of Technology. She has found a niche for herself through the use of synthetic hair in her artworks.
In 2015 Motaung was awarded a certificate of excellence in printmaking at Artist Proof Studios in Johannesburg. She completed a four-month residency at the School of the Museum of Fine Arts at Tufts University in Boston, Massachusetts, where she learned advanced intaglio techniques and contributed as an assistant teacher in the School's programme. In 2018, Motaung took up an eight month residency at The Project Space in Johannesburg under the mentorship of Benon Lutaaya as her mentor. Motaung's exposure to established artist mentorship both locally and abroad have contributed to her very unique artistic style.
Her focus and use of synthetic hair in her work champions identity preservation of women in the politics of hair, calling for women to remain unchanged and unshaken by the judgement of how they wear their hair. As a Black woman, she is informed by her own experiences with her hair, navigating the politics of Black hair by observing tradition, bond, conversation, and pressures which Motaung herself has had to deal with.
Sign The Guestbook